This was me for most of last week. I think it was a side effect of the flu shot I got the week before, but thankfully I am feeling merry once again.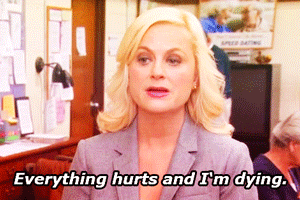 I was rockin' out by the time the weekend rolled around.
Braving the surprise of a super cold earrrrrrly Saturday morning, I went to tailgate and attend the Memphis Tigers football game. We lost, but it was definitely FUN FUN!
Sunday, I got to meet my new nephew puppy, Copper! Isn't he the CUTEST! I love him already.
Perfect weather called for some lattes and the mall with my baby sister.
I got a new dress and a new Mac lip pencil I am way too excited about.
Hope all of you guys had super great weekends!!
Stay merry.